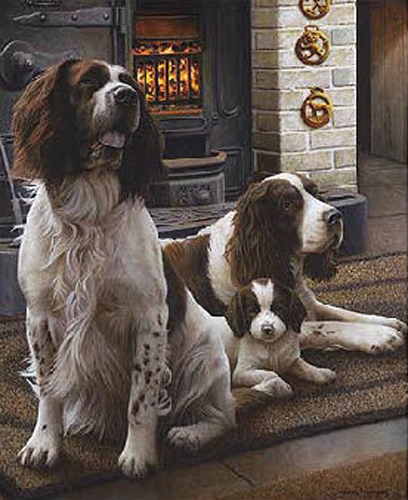 Spring Range - Springer Spaniel
Spring Range

Release date: August 2006

A single limited edition digital (Giclée) print of 100 copies only

Image size: 15inches x 18inches

Three generations of working Springer Spaniels, relax in the warmth and glow of the old kitchen range at the end of the day.

The oldest member of the group is now retired and only goes out on occasional excursions with the master. The youngest is about ten weeks old. Only recently introduced to the household, he fills his days with play and sleep. He has a great deal to learn, however, but with the combined experience of the mature dog and his senior, things are set fair for this youngster to follow successfully in their footsteps.
I have always enjoyed illustrating all ages of dogs. This generations image allows me to do just that.

Category:Dogs